DROPSHIPPING
Drop shipping is a supply chain management method in which the retailer does not keep goods in stock but instead transfers its customer's orders and shipment details to either the manufacturer, another retailer, or a wholesaler, who then ships the goods directly to the customer
The Truth About Dropshipping: The Good, The Bad, and The Ugly
Dropshipping is an order fulfillment method that does not require a business to keep products in stock. Instead, the store sells the product, and passes on the sales order to a third-party supplier, who then ships the order to the customer.
However, contrary to popular belief, dropshipping is not a get-rich-quick scheme.
Sure, it seems like easy money — you sell other people's goods and take a cut for yourself — but when you factor in all the drawbacks, obstacles, and day-to-day management, it's far from easy.
However, if you approach it the right way, and use the proven strategies below, dropshipping can still help you build a successful business…just not as quickly as you'd hoped.
Let's put it this way: if you're only doing dropshipping, it'll be difficult to get your business off the ground; but, if you're already established in ecommerce, you can use dropshipping to complement your existing services and improve your business.
In this guide, we walk through all the problems with dropshipping that aren't as publicized as its perks. But despite its flaws, dropshipping can still be a powerful tool for ecommerce brands, as long as it's used properly.
We'll also explain the ways to do dropshipping right, and showcase some company case studies to illustrate what we're talking about.
It's difficult to maintain a business doing dropshipping alone, let alone start one from scratch.

Here's why:
1. Low profit margins.
Sure, since you don't have to manage or store your own inventory, the overhead is low — but so are the returns.
You put less money in, but you get less money out. That means you have to do a lot of business just to stay afloat, let alone turn a profit.
Think about it this way: every sale you make, most of that money goes to the supplier.
What you earn is basically skimmed off the top.
That's hardly enough to cover your expenses for marketing/advertising, maintaining your site, managing sales orders, and covering your office hours.
According to Fit Small Business, you can predict your income using these variables (they're averages, so they'll change depending on your industry and situation):
20% margin.
2% conversion rate.
You can then calculate a working estimate using this equation:
(Traffic x 0.02) x (Avg order value x 0.2) = Profit
While this is fine for a quick starting estimate, there are a few problems you also have to consider:
Chances are, your discount on buying from manufacturers and wholesalers will be less than 20%.
This doesn't account for any of the additional expenses mentioned above that you have to pay from your end. It's not the final profit.
For most products, you'll have to cut into your profits to keep your sales prices competitive. If you stubbornly hold on to your 20% margin, other companies will easily undercut you.
On top of that, you'll notice that your profit is also largely determined by your traffic, so if you're building an ecommerce brand from scratch, you'll be struggling for a long time as you build a client base.
Plus, according to Adam Enfroy from BigCommerce, dropshipping is a lot of work no matter how you dice it. Although it seems hands off, dropshippers always have to deal with their wholesale suppliers, order processing, returns, and customer service.
It's much more reasonable to approach dropshipping when you already have a regular source of traffic.
2. Highly competitive.
There will always be overly optimistic entrepreneurs who focus solely on the "low overhead" part, ignoring the clear evidence above.
Because very little capital is required to start a dropshipping business, that low barrier to entry means a lot of competition, with the most popular markets suffering more than others.
Basically, the bigger a company is, the more they can reduce their markups to offer the lowest prices.
Reiterating what we said above, smaller businesses have to cut into their profits just to stay competitive with their prices, and at a certain point, it becomes unsustainable.
To make matters worse, chances are you don't have an exclusive deal with your suppliers.
That means any number of competitors could be selling your exact same products. And if you're just starting out, your rivals with years of experience have the resources you don't to undercut your prices.
That means customers can buy the exact same thing from someone else for cheaper — why would they buy from you?
3. No control over supply-chain.
In standard ecommerce, if customers complain about product quality, fulfillment speed, or return policies, you can address the problems yourself.
In dropshipping, you're more or less at the mercy of your supplier — but you're the one who still has to talk to your customers directly.
Dropshippers are essentially trapped, doing little more than hoping the supplier addresses the problems while simultaneously reassuring the customer about something that's out of their control.
On top of that, there's also a delay in communication as the dropshipper goes back-and-forth between the customer and the supplier. If one answers slowly, all communication grinds to a halt and the problems take longer to fix.
In ecommerce, customer service is paramount.
Even the slightest transgression — such as a delay in communication — pushes your customers right into the hands of your competitors.
And if they're vocal about it, those bad reviews early on could end your business before it even starts.
4. Legal liability issues.
Although this isn't a common problem for dropshippers, it's worth mentioning. Some suppliers aren't as legitimate as they claim, and you don't always know where the merchandise comes from.
Even more deceptive is when suppliers illegally use a trademarked logo or another company's intellectual property, which happens more than average.
Whatever illegal activities your suppliers are up to, as their vendor you're automatically complicit.
This potential problem can be rectified with a solid Dropshipping Agreement Contract, but not every dropshipping upstart knows that.
It's something you'll want to keep in mind when choosing suppliers.
5. Difficult to build a brand.
Like ghostwriters or behind-the-scenes songwriters, dropshippers must understand that the credit for their work goes to someone else.
If whatever product you're selling is so amazing, your customers are going to focus mostly on the product's brand and forget about the shopping experience entirely.
After all, it's not your logo on the box.
Branding is crucial in ecommerce, as shoppers tend to go to their favorite online stores first.
Without customer loyalty, you'll never get the regular traffic needed to sustain an online business, especially a dropshipping one.
Again, that's just another reason why dropshipping makes more sense for already-established brands than new ones.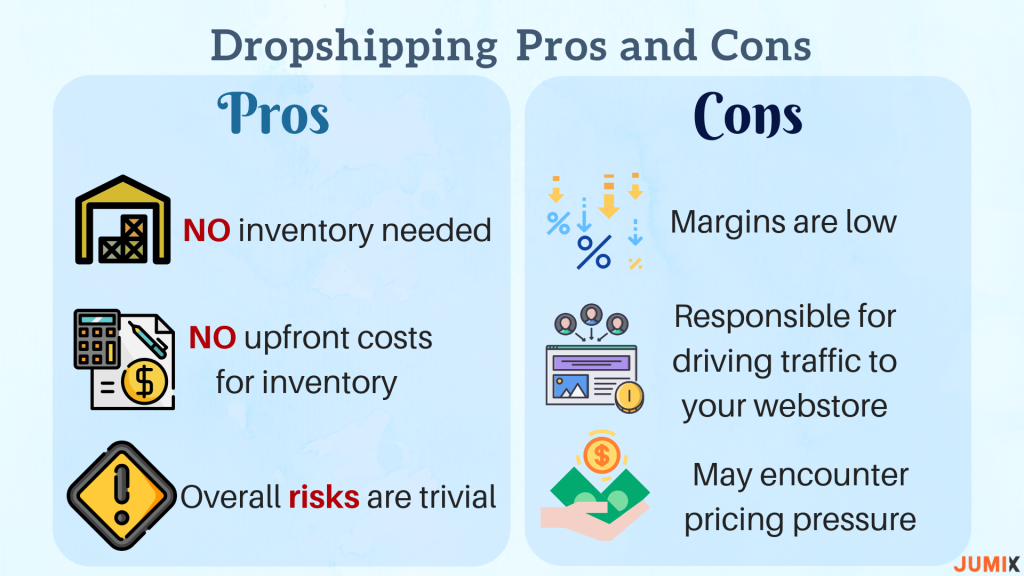 The Right Approaches to Dropshipping
Dropshipping makes a better sideshow than the main event. While its faults make it hard to support a business on its own, it still offers enough benefits to help ecommerce companies improve their business substantially.
Consider these four approaches to using dropshipping effectively.
1. Market research.
Dropshipping works better as a means to an end, not the end itself.
While a long-term commitment to dropshipping is unviable, using it for temporary projects can be extremely useful — particularly in market research.
Use dropshipping to mitigate the risk in trying out new products and used for market research.
Rather than raising your inventory costs by packing your warehouse with an unpredictable product, test it out with a trial period using dropshipping.
More than just discovering if it sells or not, you'll also have a better estimate of how much it sells for, giving you a more accurate number of what quantity to buy for your initial stock.
This is doubly important for trying out new product types, which always carry inherent risk.
For example, maybe you've been quite successful at selling dog products. Would that translate well for cat products too?
That could be hit-or-miss, but you can always test the water by dropshipping a few products and see how it goes.
2. Protection from overselling.
Experienced ecommerce brands know that market fluctuations aren't always predictable. Rather than raising inventory costs by overstocking to meet unlikely maximums, having a dropshipping supplier as a backup saves you money without losing those sales.
This is especially useful for seasonal overflow.
You can cut costs by stocking up on only the inventory you know will sell, and if an unexpected demand for sales comes in, you can satisfy them with dropshipping.
It's a great safeguard against the uncertainties all retailers face.
Having dropshipping options in place also makes great insurance against extreme circumstances.
If something like a natural disaster happens to your warehouse, you can still fulfill pre-made orders by dropshipping the products from elsewhere.
The same holds true for side-stepping surprise shipping delays.
3. Strategic shipping systems.
One unfortunate consequence of expanding your business is shipping complications. The farther out you get from your warehouse or fulfillment centers, the more shipping fees you'll incur.
Dropshipping can be the perfect solution for some problematic locations that fall outside your profitable regions.
Maybe shipping that far costs too much

, or maybe storage prices are too high to justify setting up a new shipping center.

Maybe it's an issue of taxes or extra fees

, like when shipping out of the state or country. Relying on dropshipping for these select areas could be the determining factor in keeping you out of the red.
Moreover, just as dropshipping can be useful in market research, you can also use it to test new locales.
Why not use dropshipping for a trial period in a new location to see if it's worth opening a new facility there?
4. High-maintenance products.
Some products cost more to stock and ship than others.
In certain circumstances, it may be more profitable for you to dropship them versus storing them yourself.
What do we mean by high-maintenance products?
Any products that necessitate extra fees for storing or shipping, such as:
Large products

— Some products take up so much space, their sales don't make up the costs of the excessive storage room.

Heavy products

— If a product's weight makes it cost too much to ship, try dropshipping from a manufacturer or wholesaler.

Fragile products

— Fragile products require special care when shipping. In these cases, the supplier or manufacturer might be better equipped to meet these requirements than you.

Valuables

— High-value items like fine jewelry, antiques, etc., require additional security that not all warehouses can offer. Rather than risking theft, you could leave the storage to someone who can adequately protect them.

Special conditions

— Maybe you want to sell items that need to be kept frozen, or materials sensitive to light. If your inventory needs special conditions, you may be better off dropshipping than storing it yourself.
Unless your entire company specializes in these types of products, it doesn't make sense to pay additional storage and shipping fees for a small subsection of your business.
But you can still keep your customers happy by offering these products through dropshipping.
---
Your shopping cart is empty!